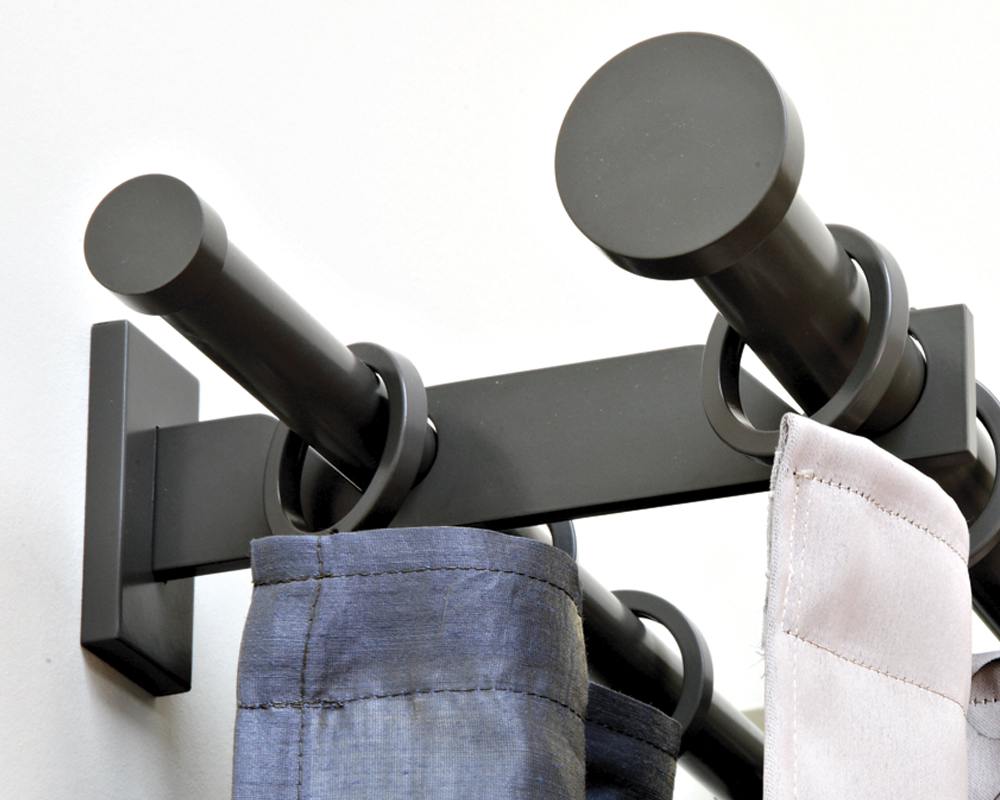 Why do we use Double Brackets?
Double Brackets outside the recess are a gorgeous and upscale system that provide a timeless look, while offering multiple functions. The systems allow people to dress their windows with two layers of Curtains instead of just one. Layered window shades are increasing in popularity, due to their versatility, sophisticated look, and customisation.
Moreover, these systems can provide two types of shading solutions. Usually, a Sheer Curtain, ideal for privacy and filtering sun is used for the internal layer (closest to the window). On the outer layer, hangs the full opacity exterior Curtain used for privacy and filtering/ blocking sun.
Factoring in Weight for Double Brackets
The most important thing to think about before installing Double Brackets is the accumulated weight of the two curtains. It is crucial that when Double Brackets are installed, they are installed on a reinforced wall.
Additionally, the option of an Electrically or Battery operated system will add additional weight due to their motors. That additional weight must be considered. Overall, suitable fixing is needed as these systems include two layers of Curtains, two poles and possibly two motors and additional wires.
Process of installing Double Brackets
Double Brackets outside the recess can almost always be fitted, but there are measurements set in place to guarantee a job well done. These are the steps necessary to continue the installation process:
Operating System
To begin, the operating system for the Double Brackets must be chosen. Poles installed on a Double Brackets system can be:
2. Suitable Fixing
Once that decision has been made, it is time to determine if the fixing of the bracket is suitable or not. A Hand Operated pole will be significantly less heavy than an Electrically Operated pole, that is why determining if the fix is suitable is step #2.
In order for things to run smoothly, our Shading Specialist instillation team must establish that the location of the instillation is suitable for the weight of the system during their initial visit.
Decorative Elements of Double Brackets systems
After our team has approved the location of the fitting, you are able to select the decorative elements of the system! This is when Double Brackets systems can truly be customised and can be made to perfectly compliment the aesthetic of your home.
3. There are a variety of curtain headings that can be installed on these systems.
Our most popular internal layer headings are:
Our most popular external layer headings are:
Wave
Double Pinch Pleat
Triple Pinch Pleat
Pencil Pleat
It is recommended that the internal layer of the Curtains is either Sheer or Standard Lined. The external layer of Curtains can be Standard Lined, Blackout Lined or Interface Lined. Different linings add additional weight to the Curtains, so the cumulative weight of the Curtains is an important factor to consider when choosing this feature.
4. Double Pole finials
Finials are an optional add on that can help tie together the look and feel of a space. It's all in the details! There is a huge variety of different finials clients can choose from. Here are our favourites:
Flush Endcap
Taper Finial
Ball Finial
Spear Finial
Eclipse Finial
Stud Endcap
Design Endcap
Glass Ball Finial
Groove Cylinder Finial
5. Colour and shape of the pole
Choosing the colour of your pole and bracket is another aspect that can really bring the whole room together. Whether that's blending the system in with the walls or using it as a pop of colour, this is an important detail. Here are our most popular colours:
White
Matt White
Ecru
Chrome
Silver
The shape of your pole can determine the look of the system! Customers have the option between a 023mm, 030mm, 050mm tubular pole or a 36mm flat pole.
Components of our Double Brackets
Metropole
Our metropoles for these systems are always Silent Gliss, due to our long-lasting relationship with the brand, and the excellent quality and reliability the product provides.
Brackets
Silent Gliss
Although Silent Gliss do not have a specific system for Double Brackets they provide us with the Universal Smart Fix brackets for Double Bracket systems, however, they are drilled-to-order. This is because the distance required between the tracks can vary. The Universal Smart Fix Bracket comes in the following colours: White, Silver (and Black from the 1st April)
Tillys Interiors
Tillys Interiors provides us with two Hand Operated Double Brackets, one being the Double End Bracket and the other being the Double Centre Bracket. These two can be used together for extra long metropoles or the Double End Brackets can be used on their own to complete a shorter Double Bracket System.
The colours available for Tillys Interiors Brackets are: Antique Brass, Old Brass, Brass Gunmetal, Polished Brass, Polished Chrome, Satin Nickel, Polished Nickel, and Antique Nickel.
Tillys Interiors Poles have an array of different finials, colours and finish options that can be explored below
Bradley Collection
With the Bradley Collection we usually use Double Brackets from the Gliderpole collection. The Side and Mid Double Brackets from the Gliderpole collection come in an array of colours including; Alabaster, Dusk, Slate, Flint, Barley, Dove, Millstone and many more.
Bradley Collection Poles have an array of different finials, colours and finish options that can be explored below
For more information about Double Bracket systems and their installation process, please contact us below.