In January 2023, Shading Specialists was delighted to be brought on to help provide Silent Gliss shading solutions for this unique and modern coworking space in Central London.
The problem:
For this London office, our team was recommended by Collins Constructions, a trusted Shading Specialists associate, to help find a creative resolution that would allow for optimal lighting control, without having the space feel commercial and stuffy. The client was looking for window furnishing that provided a warmer look to the 55no curved windows, without sacrificing quality.
Our Solution:
We suggested a Bespoke Duette system that is regularly seen in residential environments to align with the clients' requirements. We supplied the architects onboard the project with a mock-up of the job which included three products: the Silent Gliss 8500 and a mixture of PB10 systems and BB10 systems. These systems feature pleated fabric blinds, ideal for small vertical windows and do not require a lot of space for their handle operation. The draft was quickly approved due to the product's usability and the aesthetically pleasing final look.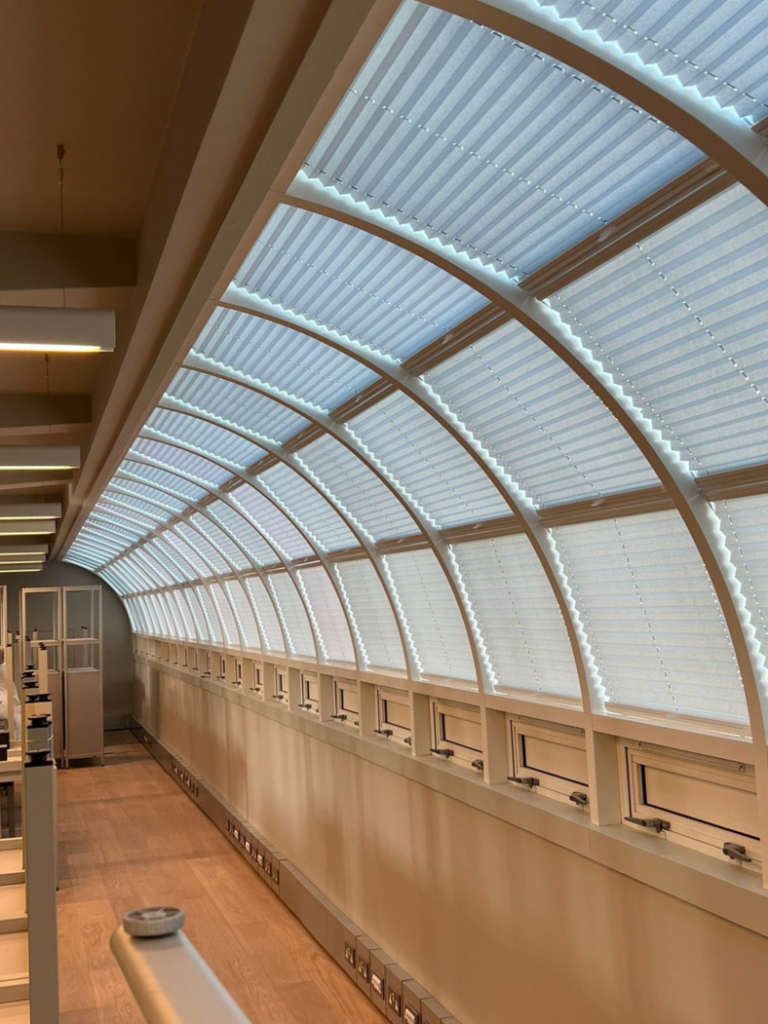 Results:
Our solution perfectly solved the client problem, providing both functionality and beauty for this modern open working space. These blinds allow employees to easily adjust the amount of light that filters through these windows without disturbing co-workers from important tasks, all while enhancing the look of this unique office. We believe this contemporary office is brought to life thanks to the gorgeous Duette systems. This is certainly an early contender for Best Projects of 2023!
This is an ongoing Shading Specialists project that will continue to be updated throughout its progression. Follow us to keep track of this beautiful ongoing projects!
For inquiries regarding this project please contact us below