What awnings are designed for

As external blinds, awnings are mainly designed for sun protection, intended to be enjoyed outdoors. Thus, what you'll find is that awnings, in general, are not suited for cold, rainy or snowy weathers. However, every owner of a patio or terrace would naturally want to be able to use their space throughout the year, not only in warm and dry weather. For this reason, we've selected the best Markilux awnings we can recommend for cold and rainy conditions.
Weatherproofing options
These features increase the protection you get from your awning as well as its durability:
Hermetic cassette – models like the MX-1 provide the best possible protection from wind and rainy weather by fully encompassing the awning cover in the cassette.
Rain protection – awnings with a 15-degree pitch or lower allow the rain to slide down the cover, without accumulating.
Wind resistance – your awning should at least be able to withstand slight breezes. Markilux awnings meet European standards, scoring 5 in the Beaufort scale. This is equivalent to 28–37 km/h or 17-23 mph, or a moderate breeze. You can improve this further by adding a wind sensor to automate the awning retraction upon wind change.
Heaters – for cold days and nights, it really helps to have a source of warmth outdoors. For maximum space and comfort, it's best to have it integrated into the awning, like the Markilux infrared heater.
Ambient light –  LED integration provides a good amount of ambient light for dim conditions, ideal for shorter daylight during winter and autumn.
Fabric – sunsilk and sunvas fabrics are long-lasting, designed for resistance against rain, light and fluctuations in temperature. In addition, their 'snc' coating creates a self-cleaning effect, which uses the water droplets to pick up dust on their way down.
Best awning for the occasional rain
Markilux Syncra
If your property is located in a place where it only rains during short, specific times of the year, the Markilux Syncra would be an excellent choice for your patio or terrace. By contrast, it would be best for Spring and Summertime for weathers like London area. This awning system is firmly anchored to the ground and the reversed V shape naturally drives the rain into the ground, far out from the centre space. This allows you to stay comfortable and dry during a mild rain, with little or no wind.
Best awnings for the cold and wind
Markilux MX-1  & the Mx-1 compact
The Markilux MX-1 and MX-1 compact stand out in design and functionality. While the cassette provides excellent awning protection from adverse weather, its dimensions provide a generous amount of shade and the angle of its pitch keeps the rain from accumulating on the cover. Combined with the LED spotlights and the Shadeplus vertical blind, these awnings create enviable ambiences at any time of the day.
Both models offer the same functions, with the main difference in the size. In the compact version, the cassette depth is about half of the standard MX-1.
Best awnings for all weathers

Markilux Pergola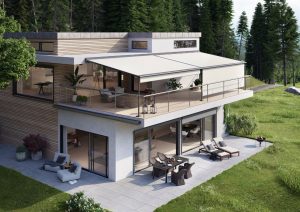 Markilux Pergola has the perfect combination to deliver beautiful protection any time of year. Thanks to the lateral guide tracks, it provides a large shading area, with an extension up to 6 metres. This awning can be combined with adjacent awnings, which can easily cover a whole terrace. By adding Shadeplus as well as one or two Side Screens, you can cover all sides, emulating the comfort of a conservatory!
How to prevent awning damage – four things to watch our for:

Snow, thunderstorm or heavy rains approaching
Long periods of absence
Freezing temperatures
In the event of any of the above, it's recommended to retract the awning completely and switch off the automatic control mechanism.
Dampness and cold can lead to the cover becoming stiff and cause the thermal safety cut-out mechanism to activate. This will prevent the awning from being retracted for a short while. If there is snow on the awning it must be removed and a frozen awning cover thawed out before the awning is retracted.
If the awning is not completely retracted during rainfall, there is a risk of water accumulation and it may damage or even detach the awning from the wall! If your awning has been retracted when wet, it should be extended again at the earliest opportunity to allow it to dry.
During long periods of absence, e.g. holidays or during the night, the automatic control system cannot always guarantee the continuous, flawless operation.
These tips can only apply not only to Markilux awnings but to many other kinds of external blinds.
Learn more
Not sure about which awning is most convenient for you? Simply get in touch with one of our Specialists for a free assessment.
[button type="flat" class="ModalCF" shape="square" size="regular" href="" title="Example"][icon type="envelope-o"]Contact us[/button]